The #1 question we get from Flordia homeowners is "are solar panels hurricane proof?"
If there's one thing that Florida homeowners must worry about every year, it's hurricanes. With solar panels becoming more prevalent across Florida, many homeowners are wondering if adding such an expensive investment on top of a roof is a good idea. Will they fly off, get damaged, or become inoperable in the event of a hurricane? 
If you are a Florida homeowner on the fence about switching to solar there's good news: solar panels can (and do) withstand hurricane-force winds. 
One of the most recent examples of solar panels lasting through a hurricane was back in 2017 when two CAT 5 hurricanes (180 mph wind speeds) hit Puerto Rico. An estimated 80% of power lines fell, cell phone towers were damaged and everyone but the Veterans Affairs hospital that was equipped with solar was left in the dark. 
Additional field testing studies show that when installed correctly, solar panels can indeed withstand 140 mph winds which is equivalent to a Category 4 hurricane.
What Makes Solar Panels Hurricane Proof? 
Florida has done a really good job of passing regulations to keep solar panels hurricane proof. In fact, solar panels must be rated for at least 160 mph winds to be installed in the state. 
While this is good news for homeowners, it's actually how the panels are installed that increases their durability. Solar panels are mounted on brackets and a rack-like system. These brackets are attached to the roof rafters through long bolts. Even though there is a gap between the solar panels and the roof that can cause wind uplift, the structural support provided by the brackets keeps them in place. 
In addition, solar panels themselves are also waterproof and shatter-resistant. In one study, a 262 mile per hour hailstone was launched at a solar panel and it didn't even break!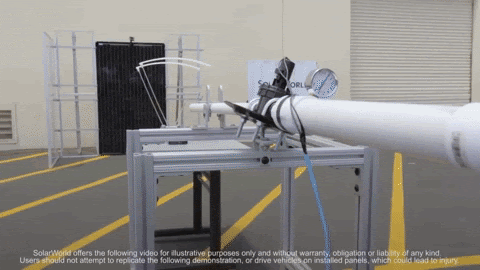 What To Know Before Installing Solar Panels In Florida
Almost all of a residential solar system's ability to withstand a hurricane depends on how it was installed. Therefore, ensuring you are selecting a Florida solar installer with the necessary training and experience is critical to the safety of your home. If your solar contractor cuts corners, it will almost always lead to a roof leak. Additionally, placing the brackets and mounts in the wrong areas can weaken the overall system. 
Interested In Learning More About Solar?
Wondering if solar panels hurricane proof is often just one of many questions Florida homeowners have. Raze Solar is proudly serving Florida homeowners with the best solar panels and home energy systems. Our experts are here to help analyze your home, take advantage of Florida solar incentives, and help you lower or eliminate your monthly energy bill. Get started with a free solar energy audit or send us a message online!
See recent projects, read customer reviews, and get updates on Florida solar news by following Raze Solar on Facebook and Instagram!