2023 Homeowner Guide: Solar Panel Cost In Florida
Learn how to estimate the cost to add rooftop solar panels to your Florida home
How Much Do Solar Panels Cost?
Solar panel costs have dropped significantly over the last decade and home energy systems are now more affordable than ever. 
While project costs can vary, having an idea of what it might cost to switch to solar power can help you decide if it's right for your home. 
In this guide, we'll cover the following: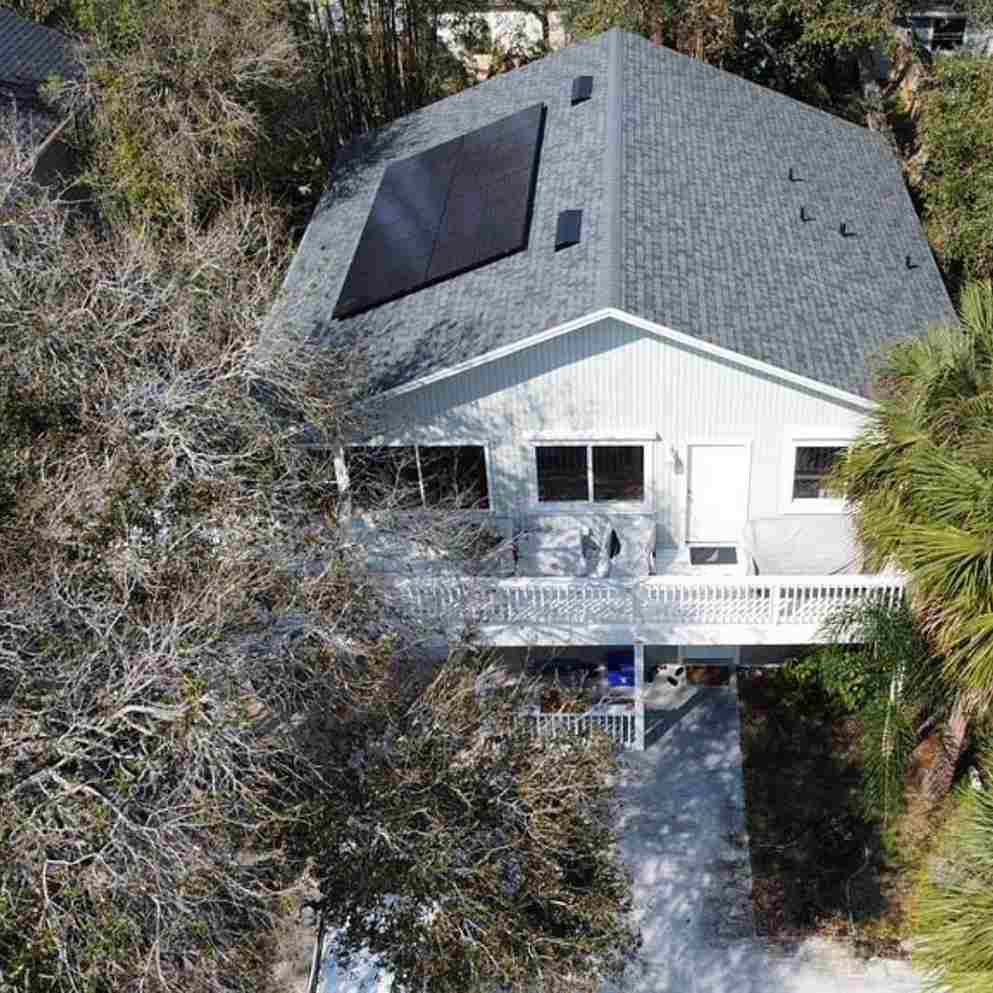 How Much Does It Cost To Go Solar In Florida?
Data shows the average cost to go solar in Florida is $35,000 if you don't qualify for the federal tax credit. If you do qualify, the average solar panel project cost is $24,500. However, project costs vary based on system size, tax credit, and financing costs. This data table can be used to estimate your solar panel cost based on your approximate roof size.
| System Size | Avg Price Before Federal Tax Credit | Avg Price After Federal Tax Credit | Appropriate Roof Size (sq ft) |
| --- | --- | --- | --- |
| 9 kW | $26,250 | $18,375 | 1,350 |
| 10 kW | $29,166 | $20,416 | 1,500 |
| 11 kW | $32,083 | $22,458 | 1,650 |
| 12 kW | $35,000 | $24,500 | 1,800 |
| 13 kW | $37,916 | $26,541 | 1,950 |
| 14 kW | $40,833 | $28,583 | 2,100 |
| 15 kW | $43,750 | $30,625 | 2,250 |
*Source https://www.ecowatch.com/ Average system costs are based on residential solar projects installed in 2021 across the state of Florida. Your actual project costs could vary.
Breakdown Of Solar Panel Costs
The total cost of a home solar system includes more than just the cost of each individual solar panel. Even the most basic system will require roof mourning hardware, inverters, wiring, and electrical hookups. For the average home energy system, solar panel costs can be broken down into five categories.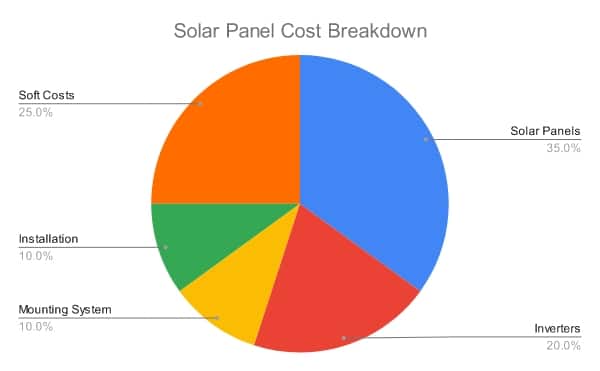 Home Energy System Components
While knowing the average cost of Florida solar panels can be helpful when budgeting, the final project cost can vary based on home size and each component of the system. 
Florida homeowners have several options to choose from when it comes to selecting solar panels. Prices vary between manufacturer, type of panel (monocrystalline, polycrystalline, thin-film) and efficiency rating. Generally, a higher quality solar panel comes with a higher price tag.
Without inverters, your home solar system will not work. This device converts the energy created from each solar panel into a usable form for your home and the grid. 
In the past, all solar panels would be connected to a single inverter. While this lowered costs, the entire system would stop working if one solar panel went down. Now, solar energy systems are designed so that each panel has its own inverter meaning the system will stay functional even if one panel drops.
The importance of a quality solar mounting system cannot be overstated, especially here in Florida, where hurricanes are common. At Raze Solar, we suggest homeowners use the IronRidge mounting system created to withstand winds 150+ mph.
Solar panel installation costs can vary depending on the home's size and roof complexity. In general, projects with a high number of solar panels will cost more.
What most online solar project calculators fail to include in the cost breakdown are the city permit fees, application fees to the utility company, financing costs, and the labor cost to design and engineer the system. Additional system components like solar batteries and car chargers can also increase project costs.
Get Help From A Licensed Solar Expert
What Would It Cost You To Go Solar?
The easiest way for you to calculate the cost of solar panels for your home is to request a free quote from our experts.
We will analyze your existing energy usage, determine the best placement to maximize production, and design a system that allows you to save money on energy costs.
From there, you can see the exact breakdown of solar costs to determine if it makes sense for your home and specific energy needs.
Find Out Your Costs To Switch
By clicking "Get Started", I authorize Raze Solar to contact me regarding solar products using the phone number I entered, even if I am on a "do not call" list. Message and data rates may apply. Consent here is not a condition of purchase. Please read our Privacy Policy for more information on how we collect personal information.
Factors That Impact Solar Panel Costs
Comparing solar panel quotes or looking for ways to save? Learn what factors influence the cost of solar panels.
How To Evaluate Solar Panel Costs In Florida
Having a uniform way to calculate solar costs can help you compare quotes to get the best deal and compare the cost of solar to grid energy to calculate lifetime savings. There are two main ways you can do this:
Price per kWh – comparing solar cost to grid energy 

Price per watt – comparing quotes from multiple solar companies
Calculating solar panel price per kilowatt-hour (kWh) lets you compare the price of solar to the price of grid energy. The average cost of grid energy in Florida is 14 cents/kilowatt-hour. If the cost of solar is less than that, it indicates your home is a good fit for solar panels, and you could save money long-term by making the switch.
What is a kilowatt hour? A kilowatt-hour is a unit of energy and is equivalent to consuming 1,000 watts – or 1 kilowatt – of power over one hour. 
Price per kilowatt hour = net cost of the system/lifetime production output
To calculate solar panel costs as price per kWh take the net cost of the system (contract price - tax credit) and divide it by the lifetime output of the system. Compare that to the price per kWh that you pay for grid energy. 
For Florida homeowners, the average cost of solar in kWh ranges from 6-9 cents. Unlike grid energy which can increase in cost at any time, the cost of solar will remain the same for the lifetime of the panels.
The price per watt of a solar energy system is calculated by dividing the contract price by the number of watts the system will produce. 
Price per watt = gross system price/watts of system 
In Florida, the average price per watt of solar is $3.00 - $4.00. Because this method measures a system's relative amount of power, it makes it easy to compare multiple solar panel quotes to determine the best deal, even if they are for different panels, manufacturers, or efficiency ratings.
Recap Of Ways To Evaluate Solar Costs In Florida
| SOLAR PRICE PER WATT | SOLAR PRICE PER KILOWATT-HOUR |
| --- | --- |
| GROSS system cost / Total system wattage | NET system cost / Total lifetime system production |
| Useful for comparing solar quotes against one another | Useful for comparing solar versus utility bill |
| Pertains to the POWER of a system | Pertains to the PRODUCTION of a system |
| Typically $3.00-4.00/watt | Typically $0.06-0.09/kWh |
Work With The Best Florida Solar Installer
We offer premium quality products, workmanship, and warranty service to homeowners looking to install solar panels in Florida.
Our highly trained, certified, and experienced team specializes in complex projects, including those with specialty roofs like clay tile, metal, and concrete. If you are looking for the best Florida solar installer, Raze Solar has your home covered.