Home solar panels are the single best way for homeowners to save on their electric costs, but what about commercial solar panels for businesses? 
According to EnergySage marketplace data, the average commercial property owner pays around $557 in monthly electricity bills before going solar. After their installation, their electricity bill was reduced by approximately 89%.
Unfortunately for business owners, there is a tremendous amount of confusion about commercial solar panels. Is my business a good fit for solar? How much will they cost? How are they installed? Are commercial solar panels worth the investment, especially if we are headed into a recession? 
To help, our experts have created this online guide and checklist to help Florida business owners determine if switching to solar makes sense and potential ways to lower installation costs. Keep reading to learn more, or call (904) 595-6835 and speak to a solar expert now.

Is Your Business Fit For Commercial Solar Panels
Florida business owners who invest in commercial solar panels are looking for a positive return on investment. Ultimately this means they want to save more in energy costs than they spend on the system. In order for that to happen, businesses must meet certain requirements to claim tax advantages that lower installation costs.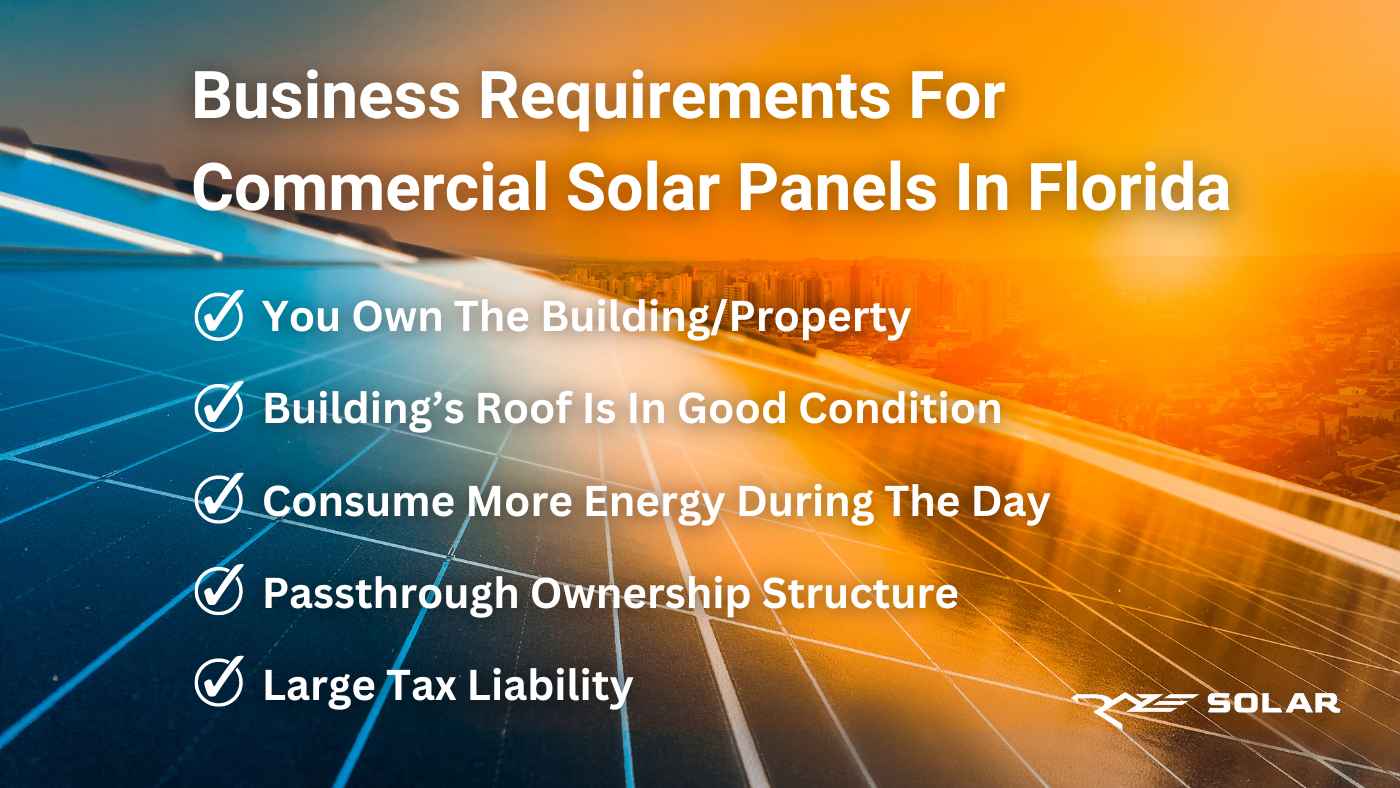 Requirements For Commercial Solar Panels
Business owners who don't meet these requirements can still add commercial solar panels, but the lifetime savings may be lower. Request a free solar quote from our experts and find out your potential savings.

Commercial Solar Panel Requirement #1 – Property Ownership
Whether you are buying rooftop solar panels at home or for your business, the installation process requires minor roof modifications. Local ordinances require solar system designs to be sent to city engineers for review and approval before permits can be pulled. The owner of the building must be listed on all documents.
For this reason, businesses that rent or who do not own the building they operate in are not a good fit for commercial solar panels. An example would be a nail salon that rents a unit in a strip mall or complex. They would be unable to authorize the installation of solar panels to cover the energy costs of just their unit.

Commercial Solar Panel Requirement #2 – Building's Roof Is In Good Condition
If you or your business does own the building you operate in, the next requirement to get commercial solar panels is a roof that is in good condition. Because solar panels last 25+ years, you will want to make sure your roof will last at least that long. Roofs that have existing leaks, damage, or are nearing the end of their useful life are not a good fit for solar.

Commercial Solar Panel Requirement #3 – Consume More Energy During The Day
Almost all commercial solar installations are tied to the main energy grid and do not use batteries. This means if your business needs an excessive amount of power at night, you will pay normal energy rates for those hours and only see savings during the day when solar panels are working. While this requirement is not a deal breaker for solar, businesses will need to weigh costs and savings carefully to ensure there is a return on investment.

Commercial Solar Panel Requirement #4 – Passthrough Ownership Structure 
Most small and medium-sized businesses have what's called a passthrough ownership structure. This means profits flow through to owners or members and are taxed under the individual income tax rather than a corporate income tax. Examples of pass-through businesses include sole proprietorships, partnerships, limited liability companies, and S-corporations.
Business structure is important when installing commercial solar panels due to the tax breaks and incentives that lower installation costs. Businesses with a passthrough ownership structure qualify for more incentives and tend to have a higher return on investment.

Available Tax Incentives For Commercial Solar Panel Include:
30% Federal Solar Income Tax Credit (ITC) – Businesses can claim the 30% solar tax credit the same way a homeowner would. The only difference is the income reduction is given for the business as a whole and not for one person. 
Accelerated Depreciation – this is also called the Modified Accelerated Cost-Recovery System (MACRS). This tax benefit is separate from the solar tax credit. While typical equipment depreciation tax deductions normally spread over the entire life of the products, the MARCS initiative allows you to write off the value of your commercial solar panels in the first year. 
Bonus Depreciation – Using bonus depreciation, business owners can deduct a certain percentage of the cost of an asset (like commercial solar panels) in the first year it was purchased. The remaining costs can be deducted over several years using regular depreciation or Section 179 expense. This added incentive ends in 2027 and drops by 20% each year. Currently, the bonus depreciation amount is 80% for 2023.
ITC vs PTC Tax Credit For Commercial Solar Panels
Business owners who can't or don't want to use the 30% solar ITC credit have another option called the Performance Tax Credit or PTC. This is a tax credit for each kilowatt-hour (kWh) of electricity generated by commercial solar panels for the first 10 years. This reduces the federal income tax liability and is adjusted annually for inflation. In most cases, business owners cannot claim both the ITC and the PTC for commercial solar panels on the same property.

Which Saves More – The ITC Or The PTC For Commercial SolarPanels? 
Total savings can vary based on system size and the total tax liability for the business installing commercial solar panels. It's critical to weigh all your options when deciding what size system to install. One way to do that is by working with a qualified commercial solar installer who can help provide yearly production estimates and costs. This information, along with your prior tax filings, can paint a clear picture of which tax deduction to tax to maximize savings long term.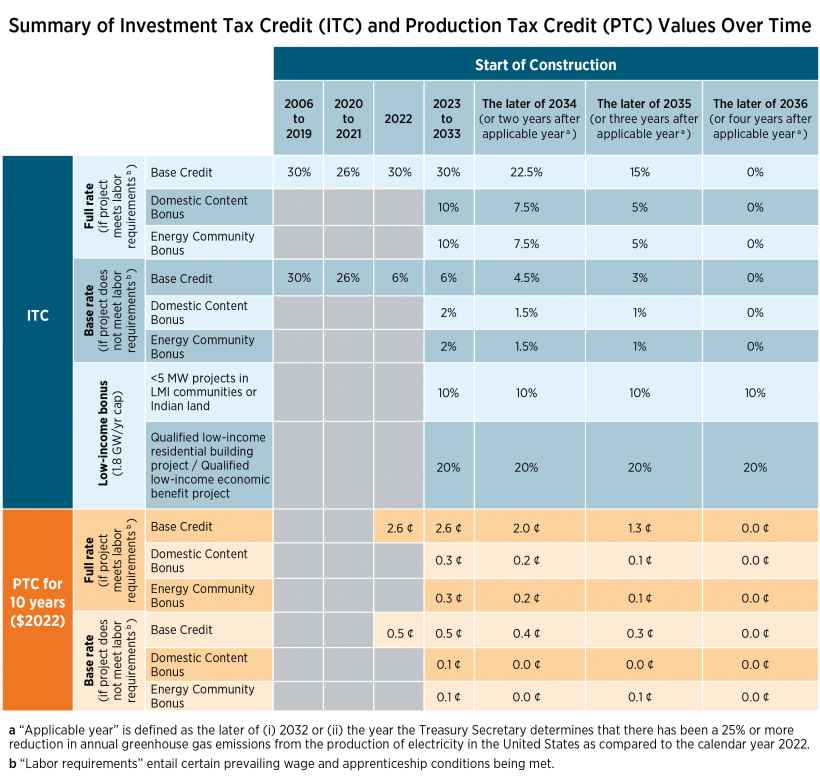 First Step For A Business To Switch To Solar
If your business is a good fit for commercial solar panels, the next step is to request a free quote from a local solar installer. This quote should include the following:
Comprehensive roof inspection 

Energy usage analysis

Cost/savings report
Armed with this information, you can then work directly with your CPA or tax professional to determine what tax credits your business qualifies for and how much you'll save. 
The final step in switching to solar is to get financing or funding to purchase commercial solar panels and complete installation. Business owners have a variety of loan options, including those from commercial banks, the SBA, and others.

Are Commercial Solar Panels Worth It?
Florida has some of the highest electricity costs in the country – and they are continuing to rise. In fact, Florida residents saw 3+ rate hikes in 2022 alone. Currently, business owners are paying 9.66¢/kWh and the average bill is $639 per month. That's a pretty hefty monthly expense that is expected to rise 2-4% per year. 
Business owners who make the switch to solar will not only be able to cut overhead costs by reducing their electric bills, but they can also save a significant amount on installation costs with the available tax incentives. In most cases, the ITC solar tax credit and accelerated depreciation cut project costs by 50% or more.

What are the other benefits of commercial solar panels for business owners?
Future-Proof Utility Costs – electricity is one of the highest monthly bills a business owner has. Solar panels can help lower this cost and hedge against rising rates. Over time, this adds up to a significant amount of savings. 
Improves Cash Flow – saving money on electricity frees up money that can be spent elsewhere in your business.  
High-Performing Investment – just like with residential homes, solar panels can boost the property value of the building. 
Positive Return On Investment – with tax credits and monthly savings, most business owners pay off their commercial solar panel loan in as little as 3-6 years. 
Improves Brand Image – consumers today prefer to work with businesses and brands that are environmentally conscious. Commercial solar panels are a great way to reduce your carbon footprint and boost your brand.

How Much Do Commercial Solar Panels Cost?
Solar panel costs are based on a variety of factors like energy usage and installation method. The best way to calculate your costs to switch to solar is to get a free solar panel quote from a licensed, local solar installer. 
To give a general idea of costs, we've outlined the average price range of commercial solar panels in Florida based on system size. These costs are before any tax credits or incentives. 
| | | |
| --- | --- | --- |
| System Size | Avg Price | Price Range |
| 25 kW | $80,000 | $66,250 – $93,750 |
| 50 kW | $160,000 | $132,500 – $187,500 |
| 100 kW | $320,000 | $265,000 – $375,000 |
| 250 kW | $800,000 | $662,500 – $937,500 |
Choosing A Commercial Solar Installer In Florida
Switching to solar is a big financial decision and one that business owners shouldn't take lightly! To ensure you have the best outcome with your commercial solar panel project, take the time to thoroughly vet your solar installer and make sure you are choosing a licensed professional. 
At Raze Solar, we understand that switching to solar can be complicated and stressful. That's why we've gone the extra mile to ensure each and every one of our customers have a hassle-free process. Using advanced AI, we accurately size systems to meet energy demands and save business owners money. In addition, we handle 100% of the permitting and application processes. When you choose us as your commercial solar installer, you'll work directly with one project manager to streamline communication and reduce stress. Plus, as licensed roofing contractors, you'll get peace of mind from our no-leak guarantee and lifetime parts and labor warranties. 
Ready to get a commercial solar panel quote? Our team is here to help! Call (904) 595-6835 and speak to a solar expert now.