There is no denying solar panels are expensive, but making the switch doesn't have to break the bank! There are a number of ways homeowners can reduce solar panel costs and save more over the lifetime of their investment. Which option is right for you? Read on to find out and learn how easy it is to make the switch.  
Reduce Solar Panel Costs With An Energy Audit
The price of solar for the average home is largely based on the equipment. This includes the type of solar panels, energy output, the total number of panels, and/or batteries. However, it is almost impossible to determine what equipment or system you should use without knowing your energy needs. That's why getting a solar energy audit before you compare prices is a good idea.  
A solar energy audit will analyze your home's energy demands and your roof to determine if solar panels are a good fit, and where they can be placed to maximize efficiency. Armed with that information, you can determine how many panels are needed to completely eliminate your energy bill. 
Is your home a good fit for solar panels? Get a free solar panel quote today!
Claim Solar Tax Credits
One of the easiest ways to reduce solar panel costs is by claiming the Federal Solar Tax Credit. Now through the end of 2032, homeowners can claim this deduction and reduce costs by 30%. After 2032, the percentage falls to 26% and will eventually go away in 2034. This means homeowners should switch now to maximize savings. 
In addition to the Federal Solar Tax Credit, Florida homeowners can reduce solar panel costs even more by paying $0 state sales tax and a $0 increase in property taxes. Learn more about local tax credits for solar in our free online guide for homeowners. 
Don't Use Solar Batteries 
There are several types of solar panel systems: off-grid (requires solar batteries), grid-tied (does not use solar batteries),  or a hybrid system which is a combination of both solar batteries and connection to the grid. Going with a system that does not require solar batteries is an easy way to reduce solar panel costs, and here's why:
Solar batteries are expensive

One or more batteries may be needed to power a large home 

Additional solar panels are needed to keep batteries full 
A free solar panel quote can help you determine if your home would benefit from having a solar battery system or if you can do without it to reduce costs
Local Contractors Reduce Solar Panel Costs 
Have you seen advertisements from national solar panel companies offering large cash incentives to switch to solar? Well, it turns out that incentive is often factored into pricing which means customers end up paying themselves. In fact, a recent study from the National Renewable Energy Laboratory shows local solar installers' pricing is an average of 10% lower than the national residential solar installers.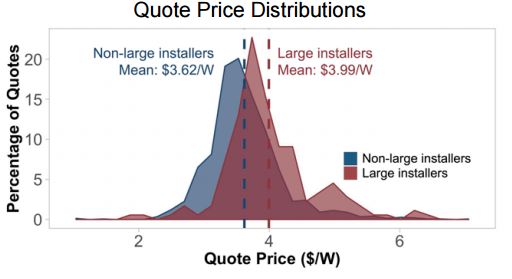 For many homeowners, choosing a local solar installer offers additional benefits like expert knowledge of building codes, seamless permitting, and full coverage warranty options. 
How Much Can You Save With Solar? 
As with any big investment, calculating the ROI is critical before you make the switch. Have questions or need more information? The experts at Raze Solar are here to help! Call or text (904) 595-6835, schedule a free solar panel quote online, or view our services areas and learn how to make the switch. Learn more about our solar energy company and see recent projects by following us on Facebook and Instagram.